Exhibition: Borys Fiodorowicz – Convencional issue
How did it come about, and what happened, that you pray a certain way, a prayer that your parents taught you and their parents taught you? Have you wondered how and if you would have prayed at all if you had been born elsewhere?
What you believe is unique and true, and you have an inalienable right to do so.

But what will you do when you confront the passionate and true faith of a man whose God looks completely different from yours?
We invite you to the exhibition of Borys Fiodorowicz's paintings, which will take place at the headquarters of the Art in House Auction House (Al. Jerozolimskie 107, Warsaw) on June 21-12, 2021. The vernissage will take place on Monday, June 21, 2021 at 18:00.
Read the interview with the artist Boris Fiodorowicz.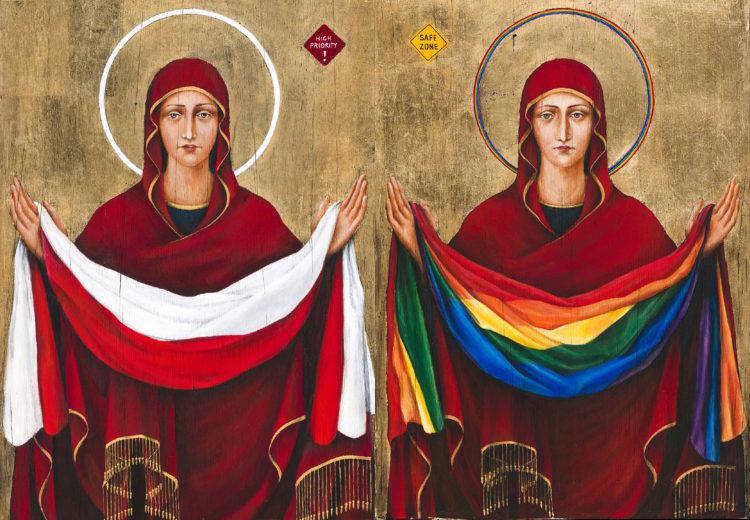 What is your exhibition "Convencional issue" about?
– How the place and culture in which we were born and raised determine our behavior and the perception of faith. I like to think that rituals developed in individual religions are actually different "dialects" of the same language: the language of people and all beings who, anyway, at the end of life will reach the place where faith ends. What starts here? Personally, I don't know, but this place is what makes us all equal. And in this context, how we perceive and describe the reality that surrounds us is precisely a contractual issue, functioning in a given cultural circle. Briefly and in general, it can be said that the exhibition is about tolerance.
How do you perceive social life in Poland in recent months? I guess it inspired you to create this exhibition?
– Yes, at the exhibition I will also show works referring to current issues. Paintings that I will present at the exhibition were created between 2020 and 2021, and during this time a lot of things happened in Poland (and not only) that really amaze me. I have no influence on most of them, I can only, like everyone else, try to name or comment on them.
In your work, you are inspired by religious painting. What is religiosity for you?
– If religiosity equals faith, then it is an individual matter of every human being. The wide range of possibilities offered to us by the modern world means that everyone, if they want, can find something for themselves or search, explore the topic of faith and religion throughout their lives.
What affects you in the current reality and what do you want to say through this exhibition?
– In the paintings prepared for the exhibition, I want to say that nothing is black and white and you should remember that. About how we argue, trying to forcefully prove our point, about how we waste time (and sometimes even life) on really insignificant things – not important in the wider perspective. In remembering and behaving, we act against the values ​​in which we believe and which we allegedly defend. We know that here and now counts, but instead of taking care of "our lives", we try to arrange it for others, even after death.
So is the Earth so small that there is no room for otherness? The world is made up of abstract concepts that we have developed as humanity for communication. Depending on the community to which we belong, we have different codes for the same behavior. How we present them in speech, writing or picture depends on a number of conditions and – as Borys Fiodorowicz notices – is an absolutely convencional issue.
Borys Fiodorowicz: Convencional issue
Art in House Auction House (Al. Jerozolimskie 107, Warsaw).
The opening of the exhibition will take place on Monday, June 21, 2021 at 18:00.
The exhibition will run until July 12, 2021.
We invite you!
Inne artykuły z tej kategorii